Teresa Romero, President
The first Latina and first immigrant woman to become president of a national union in the United States, Teresa Romero replaced Arturo S. Rodriguez as the third president of United Farm Workers in December 2018. Formerly the union's No. 2 officer as secretary-treasurer, she has years of experience overseeing the complex financial management, administrative, staff recruitment, personnel, fundraising, IT and social media operations of a far-flung organization involved in field organizing, contract bargaining and administration, legislative and legal affairs, and far-reaching international initiatives. Romero worked closely with elected UFW leaders as chair of the union's audit and finance committee. She ran fundraising efforts that collected $1 million to build the UFW's new state-of-the-art 10,294-square foot facility in Salinas serving the largest concentration of unionized farm workers in the nation. Before joining the UFW, she managed a construction company and a law firm that helped workers with immigration and workers compensation claims. Teresa Romero is an immigrant from Mexico who is proud of her U.S. citizenship and Mexican and Zapotecan heritage. She has played an important part in many recent successful union efforts, is admired by her peers for her work ethic, calm competence, organizational skills, ability to build relationships, and Si Se Puede! spirit.
Armando Elenes, Secretary Treasurer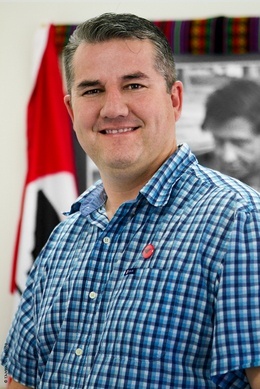 Armando Elenes was born in Sinaloa, Mexico and immigrated to the United States in 1980 at the age of eight with his family. Beginning at the age of 15, he worked in nurseries, dairies and picked peaches and apricots to help provide for his family during the summer months. He attended Hilmar High School in [CITY] and graduated in 1990. He then served his country in the military, spending four years in the U.S. Air Force. After leaving the service, he studied for two years at Modesto Junior College and earned his Associates of Arts Degree. While at community college he became involved with the United Farm Workers' major strawberry organizing campaign on the Central Coast and organized dozens of union supporters to leaflet stores and participate in other actions in the Modesto area. After graduating in 1997, he applied to attend the University of Southern California. Instead, he was asked to serve an internship at theUFW office in Los Angeles as a community organizer. After less than two years with the union, he transferred to the UFW Organizing Department in Delano and continues to work there, focusing on organizing workers in the Central Valley.
During his service with the UFW Elenes has coordinated field operations for political campaigns, run union representation election campaigns and also organized numerous other organizing efforts. He now serves as the organizing director for the External Organizing Department in the San Joaquin Valley.
Armando is married with three children.
Irv Hershenbaum, 1st Vice-President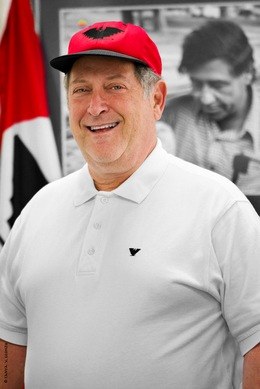 Irv Hershenbaum has worked with the UFW since 1972 beginning as a college student in New York. Hershenbaum organized support committees to work on the boycott of grapes, lettuce, and Gallo wines. He received a B.A. in History from the State University of New York and a Masters Degree from Cornell University in Industrial and Labor Relations. He is the son of immigrant parents who came to the United States as refugees from the Second World War. Hershenbaum was appointed by Cesar Chavez in 1991 to the UFW's National Executive Board and was elected in 1992 as the UFW's Second Vice President. In 1996, Irv Hershenbaum was elected First Vice President of the UFW.
Hershenbaum joined the UFW full time in 1975 and coordinated grape boycott campaigns in New York, Boston, Denver, Toronto, North Carolina, Chicago, Philadelphia, Hong Kong and every major city in California. Hershenbaum organized picket lines, vigils, marches, fasts, demonstrations, and press conferences to gain public support for the UFW.
Irv Hershenbaum since 1994 has coordinated contract campaigns with mushroom workers at Quincy, Ariel & Sunrise, and Pictsweet Mushroom company. He assisted the rose workers at Jackson & Perkins and C.P. Meilland. Irv worked on campaigns assisting the workers at Scheid, Chateau St. Michelle, and Gallo of Sonoma.
During the strawberry campaign, Hershenbaum led the corporate campaign at Monsanto that led the neutrality agreement with Coastal Berry.In addition, Irv worked on the major political campaigns with the UFW including the historic victory for the mandatory mediation law in California.
Irv Hershenbaum currently heads the Contract Campaigns Department developing strategies to involve supermarket owners and buyers to support the UFW.
Giev Kashkooli, 2nd Vice President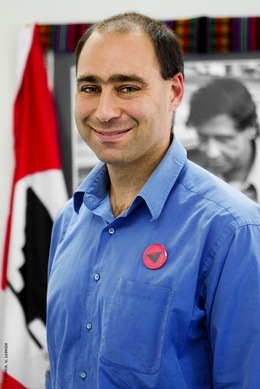 Giev Kashkooli is the political and legislative director for the United Farm Workers of America, overseeing the union political, legislative, and communications work that helps build farm worker power.
He has worked with the UFW for 20 years throughout California, New York, Washington, D.C., Florida, and across California.
He graduated in 1994 from Brown University in Rhode Island, where he first became active supporting the United Farm Workers' cause.
Upon joining the union, Kashkooli worked coordinating components of campaigns that won UFW contracts for farm workers at Chateau St. Michelle winery in Washington state and mushroom workers. He played a key role in the UFW's national campaign to organize strawberry workers at Coastal Berry Co. (now Dole Berry) that produced union contracts with the largest direct employer of strawberry workers in America.
Among highlights from Kashkooli's years as union political director is leading the campaign and managing the political work that has won heat illness protections for California workers, produced changes to California's collective bargaining laws for farm workers, winning a national pesticide protection standard for farm workers, and strengthening farm worker health care.
Kashkooli has managed dozens of political races for the UFW, including the election of county, state and national candidates. He continues to play a key role in the UFW's immigration reform efforts, has lead the endeavor to enact the landmark AgJobs immigration reform bill at the national capital, and has been closely involved working to win executive actions with the Obama Administration providing immigration relief.
Erika Navarrete, 3rd Vice President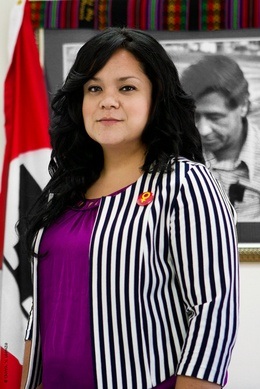 Erika Navarrete has worked full time with the UFW for more than 10 years. Erika is currently a Lead Coordinator in the San Joaquin Valley. She has coordinated teams of organizers in multiple campaigns, helped coordinate historic turnout during immigration mobilizations, and oversaw a successful political operation in the Coachella Valley in 2010. Erika has deep and broad relationships in the farm worker community in the U.S. and Mexico. In addition to embodying the UFW's Si Se Puede values, Erika helps lead a tech savvy, new generation of organizers. Her greatest hope is to help grow the UFW over the long-term.
Erika graduated from Turner High School in Kansas City, Kansas in 2003. She then moved to Delano where she worked picking table grapes while also attending
Bakersfield City College. Prior to becoming a full-time UFW employee, Erika volunteered at the union's Delano office helping organize farm workers and in political campaigns. Erika was born in Anaheim, California and raised in both, Kansas City, Kansas and Tangancicuaro, Michoacán, Mexico.
Erik Nicholson, National Vice President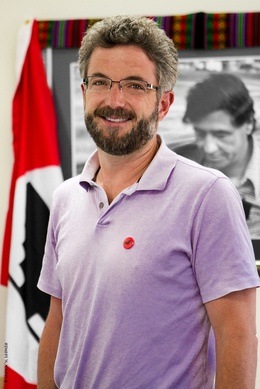 Erik Nicholson, National Vice President, United Farm Workers – Erik Nicholson is currently the National Vice President of the United Farm Workers (UFW) where he directs the development of programs aimed to improve the lives of farmworkers in ways other than collective bargaining. He also oversees the Union's international operations. He joined the UFW in 2002 after working with PCUN, a farmworker union in Oregon, for twelve years. He was first elected to the Union's Executive Board in 2008. During his more than 25 year career in the Farmworker Movement, he has worked with coffee pickers in Nicaragua, rice farmers in Thailand and Mexican workers employed on farms across the US.
Vice President Nicholson is Chair of the Board and one of the founding members of the Equitable Food Initiative (EFI), a multi-stakeholder certification and training program focused on farm labor, food safety and environmental stewardship issues <www. equitablefood.org>. He serves on the EFI board with representatives from Costco, Bon Appetit and Andrew and Williamson, a large fruit and vegetable grower with operations in California and Mexico. He is also the Chair of the Board of CIERTO, a recently formed non-profit organization dedicated to the identification, training and dispatch of agricultural workers in a clean and transparent manner. Additionally, Nicholson has served on the board of Fair Trade USA since 2012.
In his role as a member of the United Farm Workers' National Executive Board, he advises the organization on foreign guest worker issues, international affairs and pesticides. Nicholson has worked extensively on pesticide issues as they affect farmworkers and their families, child labor, housing, consumer outreach and education and legislative issues.  He has served as one of two national farmworker representatives to the Environmental Protection Agency's national pesticide advisory committee, the Pesticide Program Dialog Committee. He has served as a member of the Board of the Washington State ADRS Agricultural Employment Mediation Program.
Nicholson has a B.A. from Duke University, and has been a featured presenter at a number of national and international conferences concerned with immigration and guest workers. He is based in Tacoma, WA.
Diana Tellefson, National Vice President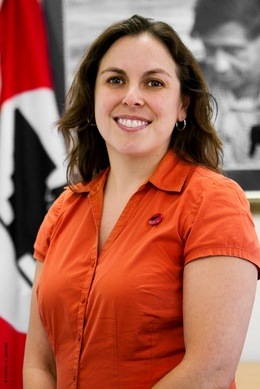 "Si Se Puede" (yes, it can be done) was an attitude Diana Tellefson learned from childhood. She grew up in National City, California, a town only 15 minutes from the Mexican border. Her mother migrated from Chihuahua, Mexico at the age of 20 knowing very little English. Her mother would say, "Never let someone tell you that you can't do something or make you feel as if they are a better person than you are. Always stand up for yourself!"
After graduating from Stanford University with a Bachelor of Arts degree in psychology, Tellefson taught at taught for four years at an elementary school. During her last year of teaching, Diana helped establish a successful political action committee that worked to bring about positive changes in her school district. She participated in a post-graduate fellowship and was accepted to the Coro Fellows Program in Public Affairs, through which she developed leadership skills in public policy. Her passion for the advocacy of farm workers' rights stemmed from a weeklong visit to the Central Valley during her fellowship. She told the other Coro fellows, "I think that this is what I'm doing with my life. I'm working for the United Farm Workers."
Prior to serving with the UFW, Tellefson worked as San Mateo County and Latino outreach coordinator for Joe Simitian's state Senate campaign. She managed field organization in five cities as well as outreach events and communication efforts in two counties. She also worked on the 2004 presidential campaign as the deputy director for Voices for Working Families. Diana recruited, trained, and managed 20 precinct walkers in a Latino voter registration and get-out-the-vote project in three Arizona counties.
After Arizona, Tellefson began with the United Farm Workers' Political Department. As the union's immigration reform field director, she worked to help mobilize farm workers around the historic AgJobs bill. In addition, she was able to participate in the union's big organizing campaign at the giant Giumarra table grape ranch, focusing on packinghouse workers. This experience made her understand the deep fear workers feel due to grower intimidation.
Tellefson is now executive director of the UFW Foundation, which focuses on civic participation, policy, and research. While leading the UFW Foundation, Tellefson continues to champion immigrants' rights. Last year, she mobilized hundreds of farm workers who traveled to Washington D.C. and spoke to members of Congress about the need for immigration reform. She has organized with other immigrant and farm worker advocacy groups around the nation to advocate for fair and just reform.
Lauro Barajas, National Vice President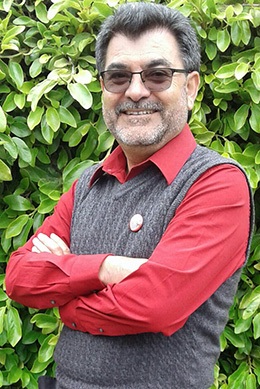 Lauro Barajas is the UFW's regional director for the Santa Cruz, San Benito and Monterey Bay area. He was born in Jalisco, Mexico and came to the U.S. at the age of 16. Upon his arrival, he began working with Montpelier Orchards, an almond company under UFW contract, in Modesto, Calif. Barajas' first exposure to unionization came from his father, who was a big influence in his life, and his older brothers organized farm workers into the union. They also taught him the importance of community involvement and organizing. Barajas worked for Montpelier Orchards for about seven years.
He was heavily involved in community organizing with the Catholic Diocese of Stockton from 1988 through 1995, coordinating events and activities for both adults and youth. He brought together teens who lived in neighborhoods exposed to gangs, violence and drugs by creating programs for them that served as outlets for a better life.
Barajas began working for the UFW in February 1996 as part of the union's major strawberry workers organizing campaign. He quickly became a lead organizer for the UFW in the Watsonville and Salina areas. He relocated to Oxnard in 1998 to head the strawberry campaign in Ventura County. His union organizing team won an election in 1999 at what is now Dole, one of the nation's largest strawberry growers.
Since then he has led numerous UFW organizing campaigns across California, including boycotts, strikes and negotiations. Barajas serves as a delegate in the Monterey Central Labor Council and is often called upon to take a role in issues that affect the community.
He was elected to the UFW National Executive Board on May 20, 2016.