Court rules piece-rate pickers must be paid for down time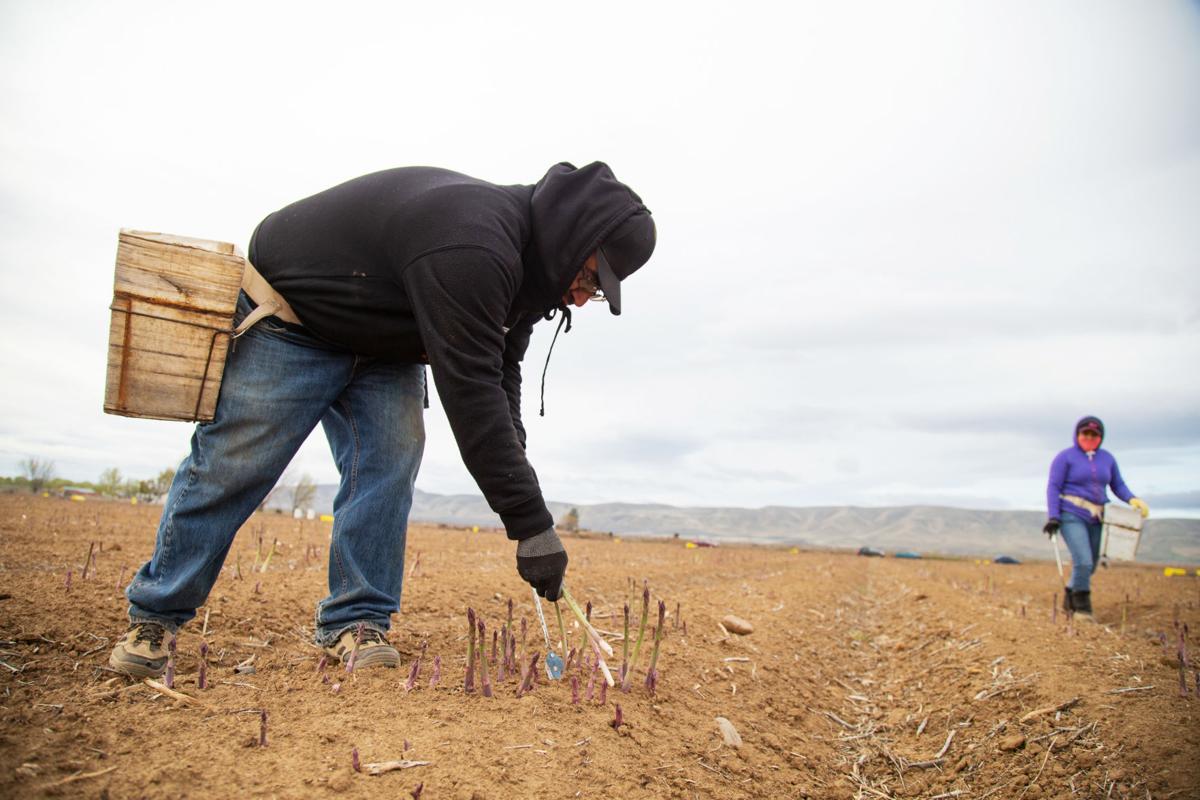 YAKIMA, Wash. — The state Supreme Court on Thursday ruled that farm laborers must be paid a separate wage for tasks outside of piece-rate picking.
In a 5-4 ruling, the majority of justices said state law mandates that all employees receive at least minimum wage for each hour worked.
But dissenting justices supported arguments that the piece-work model doesn't violate the state's minimum wage law because the weekly pay that workers receive averages out on an hourly rate that is at least minimum wage.
The ruling stems from a 2016 federal class action in which workers at Dovex Fruit Co. of Wenatchee complained they were not being compensated for duties performed outside of picking, such as attending meetings, unloading ladders and other equipment from trucks and traveling from orchard to orchard. A federal judge sent the question to the state court for a decision.
Laborers on piece rate are paid based on the amount they pick, and faster pickers can earn more money.
The majority opinion, written by Justice Mary Yu, did not define what constitutes so-called down time. The main dissent, authored by Justice Debra Stephens, noted that down time activities include weather delays and waiting for bins.
Advocates for the farm workers call the decision a matter of fairness, while critics say it could cause economically marginal crops to vanish or reduce piece-work rates.
Growers say Thursday's ruling — the latest in a series of recent federal and state rulings in favor of field workers — has the potential to stymie earning potential or drive up labor costs to a point that crops with marginal profits, such as asparagus, vanish or force smaller growers out of business.
"If it results in a higher rate of pay and higher earnings, I think what we'll end up with is a higher labor bill, more consolidation of farms," said Mike Gempler, executive director of the Washington Growers League. "It makes it harder on the smaller growers, and that's a shame."
Growers could drop piece rates to help offset the cost of separate hourly pay, he said.
"But I think some of the effects will be more people paying hourly or a combination of an hourly rate and piece rate on top of it," Gempler said. "Some of the better workers might end up being paid less — there's potential for that."
Diminishing piece rates would undermine a pay scale favorable to laborers and growers alike, said Yakima attorney Sarah Wixson, who submitted a brief in the case in favor of growers.
Most farm laborers in the Yakima Valley are paid piece rate, she said.
"The name of the game is to get workers, and some workers picking cherries are making $60 an hour," she said.
The timing of the ruling will put growers who already have guest worker contracts, such as H-2A, already in place this year in a bind. They won't be able to change piece rates in those contracts to offset any separate hourly wages, she said.
"They can't renegotiate those now. They'll just have to pay more to comply with the state ruling."
Others, however, cheered the ruling, including state Attorney General Bob Ferguson, who filed a friend of the court brief on behalf of the workers.
"Employers must fairly compensate farm workers for all of their work. Period," Ferguson said in a statement. "I will continue to stand up for the legal rights of farm workers."
Ferguson was far from the only one taking sides in the lawsuit, which saw legal briefs filed on behalf of a wide range of interests, including the United Farm Workers of America, the Washington State Tree Fruit Association, the Washington Trucking Association, the NW Immigrants Rights Project and the Washington Employment Lawyers Association.
United Farm Workers President Arturo Rodriguez applauded the ruling in a statement.
"The Supreme Court ruling is a landmark victory for all Washington state farm workers that over time could mean millions of dollars to help alleviate the poor pay and poverty they endure," he said.
Either way, the ruling is a fundamental change in the way farmers and laborers here long have calculated earnings.
Now, growers will be forced to determine and track which duties fall under piece work and which don't, said Dan Fazio, director of the Washington State Farm Labor Association.
"This is a big deal," he said. "We are moving to a new compensation system."
Defining what constitutes piece work, and tracking duties that fall outside of that, will be difficult at best, Gempler said.
Piece rate is complex as is, varying with each crop. Some growers even pay piece rate for thinning and pruning, he said.
"How do you keep track of that — have someone clicking a time-clock every time they shift to a different job?" Gempler said. "It doesn't make sense."
Fazio worries the ruling could lead to growers being ordered to pay retroactively for duties performed that are not considered piece work.
In January, six area growers agreed to settlements totaling $6.2 million over unpaid breaks to about 3,000 field workers. After a state Supreme Court ruling changed state law to require growers to give farm laborers paid 10-minute breaks every four hours, a federal ruling said workers could be compensated for breaks up to three years retroactively.
"There is no question that we are going to see hundreds of millions of dollars of class-action lawsuits arguing that workers are owed back wages," Fazio said.